Back in the 1890s, the City of Dallas was growing and there was a desperate need for another hospital since City Hospital was the only health facility serving the population of 37,000.
Several prominent Dallas physicians and civic leaders appealed to Catholic Bishop Edward Joseph Dunne to encourage the Daughters of Charity of St. Vincent de Paul, a group of Catholic sisters prominent in health care administration, to open a hospital. Their mission was to serve the sick and the poor with compassionate care.
Prior to the hospital opening in 1898, the sisters operated a health facility in a small cottage on the property. At the opening of the new 3­story, 110­bed red brick Victorian building, Dr. Samson Eagon complimented it as being "the finest hospital in the world, having all that is modern in equipment and appliances."
Hospital grounds were located at Bryan and Hall Streets in East Dallas. The St. Paul School of Nursing was established in 1900, offering "hands on" education during its 71 years of operation. Students studied, lived and worked in the hospital during their intensive three years of training.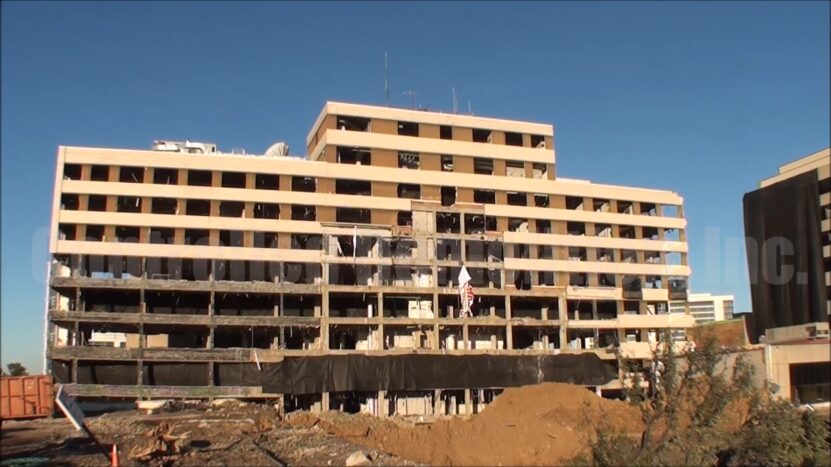 In 1906, a free clinic was opened in the hospital's basement with Sister Brendan O'Beirne in charge. The clinic finally had its own building, the Marillac Clinic, to serve the predominantly Hispanic neighborhood in Dallas' Little Mexico. In 1916, the Annex Building was added to keep pace with the city's rapid growth. It elevated the original structure to five stories and added about 200 more beds and was renamed St. Paul's Hospital.
While exploring the history and growth of St. Paul's Hospital in Dallas, you may also be interested in learning about the city's darker side through our article about Hiram W. Evans, a prominent Dallas Klan leader and his controversial past.
The expertise of the sisters and their staff was severely tested in 1918 when 45 tents were set­up on hospital grounds to care for the Spanish flu epidemic affecting the soldiers from nearby Camp Dick. "From the beginning the sanitarium maintained an attitude of sympathy and cooperation with the government . . . until the final victory was won," U.S. Army Col. John McReynolds wrote about St. Paul's selfless aid to sick soldiers.
In 1943, a group of dedicated women founded the Women's Auxiliary to make pajamas, gowns, sheets and pillowcases for patients and to raise money through the operation of a thrift store and hospital gift shop. In later years, it became the envy of hospital auxiliaries throughout Texas, donating millions of dollars for nursing scholarships, the latest in medical equipment and thousands of volunteer hours.
After World War II ended, construction of the Dallas Building was begun in 1950, increasing the capacity to 475 beds. As construction was coming to an end in late 1951, a disaster threatened to destroy everything the sisters and staff had built. On October 24, 1951, a five­ alarm blaze erupted, but Sister Alberta Savage implemented an evacuation plan that saved the lives of more than 250 patients and employees.
Even though $125,000 in damage was caused by the fire, the hospital re­opened 24 hours later. The Dallas Building was opened in April 1952. The next year, Sister Mary Helen Neuhoff of St. Louis was named hospital administrator, moving to Dallas where she had three brothers involved in a meat packing plant who were key supporters of the hospital. Sister Mary Helen became known for opening the doors for African American physicians to practice medicine in a private hospital.
This video shows the hospital implosion that happened in 2015:
In 1958, the majestic hospital was burgeoning and plans were launched for a brand new $15 million hospital at Harry Hines and Inwood Road in Dallas' prestigious Southwestern Medical Center near the medical school, Parkland, and Children's.
When it opened on December 22, 1963, the new 10­story hospital reflected the latest in medical technology and patient care. A caravan of ambulances with patients, heated pane l trucks with the newborn babies and a van transported orthopedic patients. Within five hours, 96 adult patients and 16 babies were transferred without incident on a day that saw chilling temperatures and the year's first snowstorm.
While exploring the history and growth of St. Paul's Hospital in Dallas, you may also be interested in learning about the city's darker side through our article about Hiram W. Evans, a prominent Dallas Klan leader and his controversial past.
The spirit of the dedication ceremony in April of 1964 echoed the words of Sister Elizabeth Steiner, administrator, "into our new St. Paul has been poured more than bricks and mortar. There is a combination of love, devotion, time, talents and substance to which everyone has contributed. This is what is unique about St. Paul," she said.
By the early seventies, St. Paul was again experiencing growing pains, adding Professional Office Building I in 1974, an eight ­story patient tower three years later, and a new cancer center by 1982. The hospital's reputation grew as an alliance with UT Southwestern Medical School as a teaching referral center prompted the change of name to St. Paul Medical Center.
After many medical breakthroughs in surgical procedures and patient care, St. Paul's destiny was coming to an end. Ascension Health Care System in 1996 turned over the management to Methodist Health Care System and in December 2000 UT Southwestern purchased the hospital's physical assets, renaming it the St. Paul University Hospital. On November 20, 2015, the demolition of the hospital was completed, thus closing the chapter of this famous hospital that served both the rich and the poor.